Last autumn, nearly 100 tenants were evicted from their apartments and left on the streets after renting from the intermediary Rent Xpress. These people are still waiting to get their deposits back. Now, Hem & Hyra can reveal that the company's owner has started a new business with the same activity. On websites targeting international tenants, apartments are offered at exorbitant rents, sometimes with a deposit as a requirement.
The company TTS Holding, commonly known as Rent Xpress, was one of the main actors in the mass evictions that took place in Häggvik in Sollentuna and Vällingby in western Stockholm last autumn. Hem & Hyra investigated in a series of articles what led to nearly 100 of their tenants, including several families with children, being forced out onto the streets with only a few weeks' notice.
When the property owner Svenska Nyttobostäder discovered that the intermediary Essens of Living had hired Rent Xpress as a second intermediary to rent out the apartments to individuals, Svenska Nyttobostäder terminated the contract with Essens of Living. Rent Xpress then informed the tenants that they had to move by the next month's end, otherwise their belongings would be confiscated. One of those affected was the Indian IT engineer Dinesh Babu.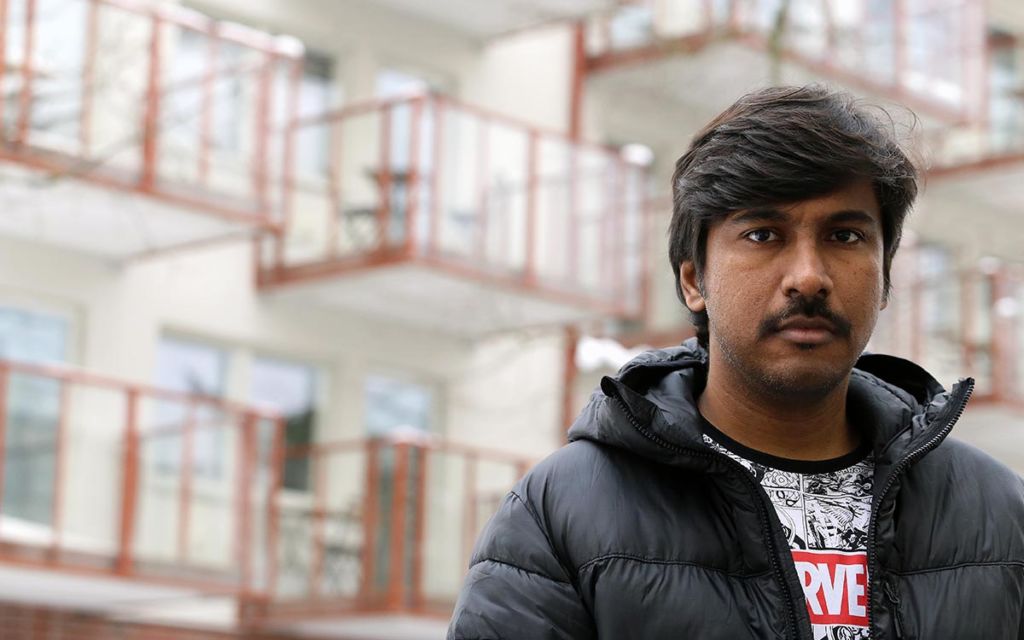 Dinesh Babu was evicted without getting deposit back.
The company also threatened that if the apartments were not emptied and cleaned, the tenants would not get their deposit back. Normally, this is a monthly rent, that is, around 10,000 SEK for apartments of just over 20 square meters. Our investigation has shown that Rent Xpress has not refunded any deposits to any of the 30 tenants we have been in contact with – although they moved out a long time ago. More on that later in the article.
Rent Xpress owner is renting out again
Hem & Hyra can now reveal that the owner of Rent Xpress, Thomas Traneving, together with his partner, has started a new company called Rentflat Europe AB. The business is to "manage housing". Apartments are rented out at high rents via Marketplace, Housinganywhere, and the company's website, Rentflat.se. On Marketplace, Thomas Traneving acts as an administrator and group expert in groups for housing seekers. Sometimes a deposit is required for the apartments he rents out.

For example, a studio apartment of 32 square meters in Skärholmen is offered for 9000 SEK per month with a one-month deposit required. For 12,000 SEK per month, a 45-square-meter "mini villa" is offered in Vällingby. These rental prices are much higher than what would be expected for a negotiated rent.
Rentflat acts as an intermediary, just like Rent Xpress, between property owners and those interested in renting an apartment. This means that the company does not own any properties of its own but earns money from the difference between the landlord's rent and the rent that Rentflat charges the tenant.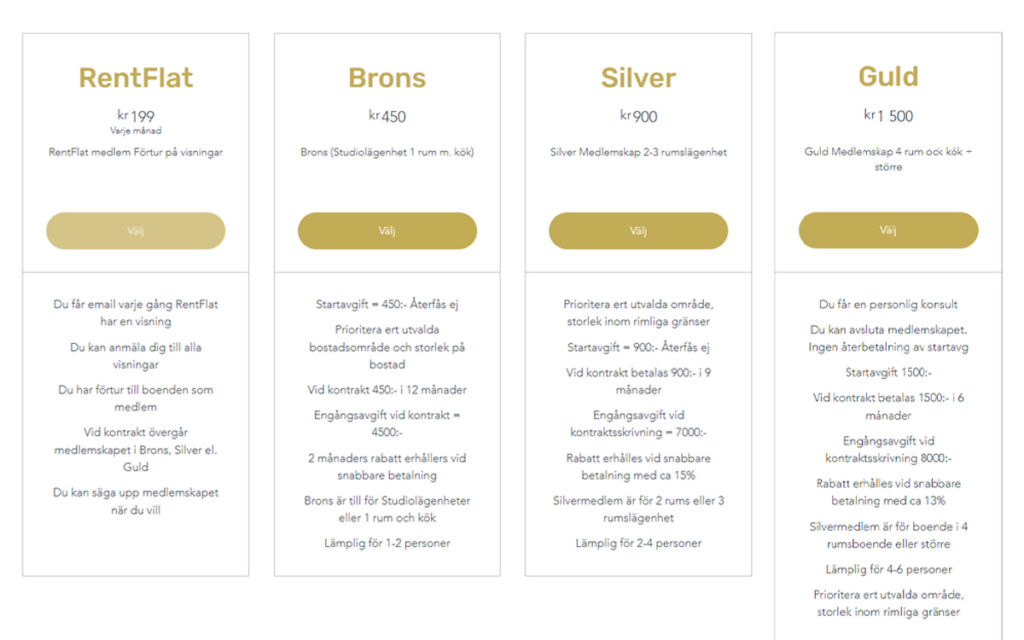 The new company "membership".
Additionally, Rentflat, just like Rent Xpress, wants housing seekers to sign up for various types of "memberships". The cheapest one costs 199 SEK per month. For that amount, you receive an email every time there is a vacant apartment, and you can apply for all of the company's vacant apartments. The one who chooses the most expensive, gold membership, has to shell out 1,500 SEK, it is not clear whether it is per month or a one-time fee. A personal consultant is promised then, but upon signing the contract, the tenant must pay a one-time fee of 8,000 SEK. However, the one who pays quickly is promised a discount of 13%.
Expert lawyer: I absolutely advise against it
Susanna Skogsberg, former legal counsel for the Swedish Tenants' Association, now a consultant, has many warning bells ringing. The fees are legally dubious, especially if it concerns rental apartments.
This is a perversion of the housing market. One can question if it is legal. In rental brokerage, the broker is allowed to charge a one-time fee of 3,000 kronor when a contract is signed. Here, the amounts are much higher and also recurring. I absolutely advise against renting from this company, even if one is in desperate need of housing," says Susanna Skogsberg.
Evicted – without getting their deposit back
Hem & Hyra has been in contact with around 30 tenants who rented from Rent Xpress in Häggvik and Vällingby. They all tell the same story: they have paid at least one month's rent, around 10,000 SEK, in deposit, and none of them has seen any sign of that money. We have also been in contact with tenants who have rented from Rent Xpress in other properties and moved out before the end of September. They have also not received their deposit back.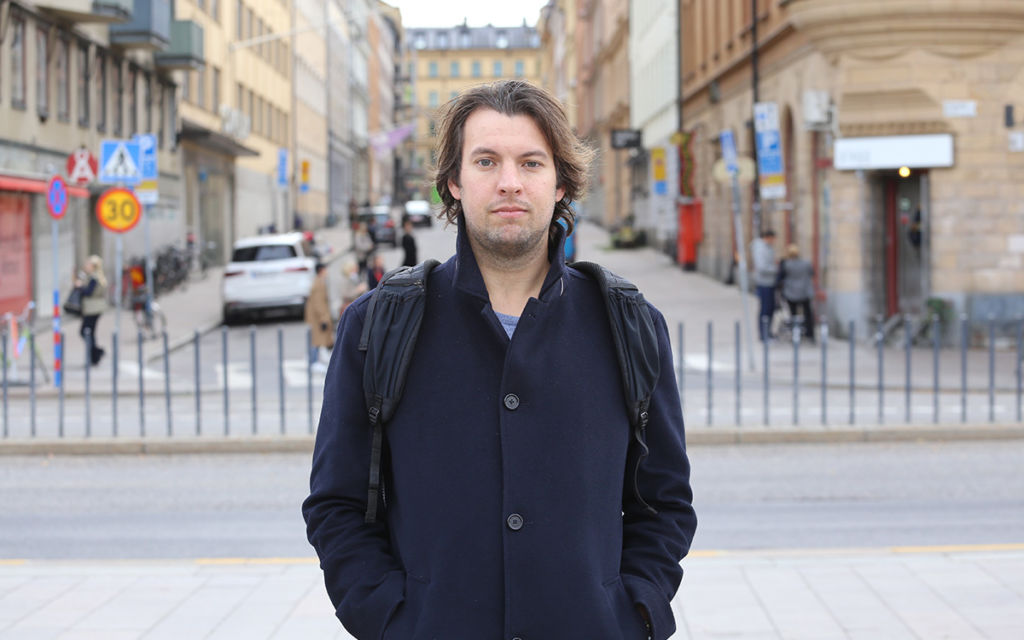 Dutchman Jasper Pol moved out in August – and havn´t got deposit back.
Some of them have turned to Kronofogden (the Swedish Enforcement Authority) to get their money back. For example, American tenant Brianna Brewster, whom we recently wrote about, and Dutchman Jasper Pol, who got in touch with Rent Xpress via housinganywhere.
Hem & Hyra has repeatedly tried to reach Rent Xpress owner and representative Thomas Traneving, but only received a response on one occasion. That was in mid-October when Thomas Traneving promised that everyone would get their money back. He then stated that his company was in the process of repaying deposits to 150 people.
According to Kronofogden, the company has seven outstanding debts totalling over 95,000 SEK. At the same time, there are 30 ongoing payment orders from individuals and companies seeking help from Kronofogden to receive payment or deposits back. In total, it concerns 4.2 million kronor.
Rent Xpress address: A mailbox in a tobacco shop
However, Rent Xpress now seems to have more or less ceased its operations. The company has no available apartments on its website. The physical address is a mailbox in Upplands Väsby, north of Stockholm.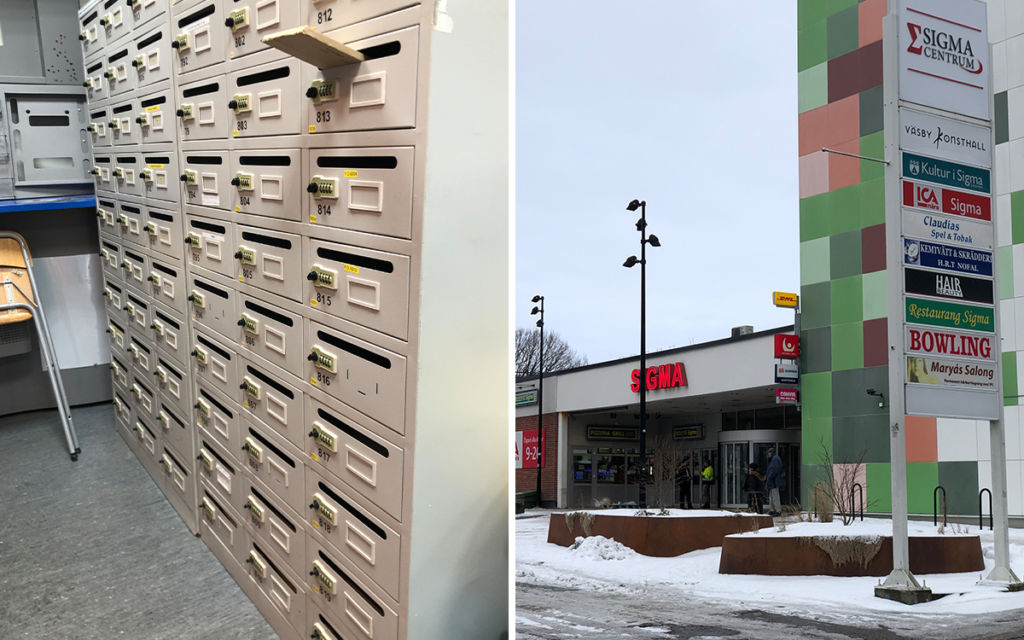 Rent Xpress address – a mailbox in a tobacco shop.
We went to the mailbox address and ended up at a tobacco store in the somewhat anonymous small shopping centre Sigma, a 15-minute walk from the commuter train. At the bottom of one of the grey rows, we found a nameless box with the correct number.
The trail of Rent Xpress thus ends at a mailbox in a tobacco store in Upplands Väsby.
Evicted Robin: Really bad
Most of the new company Rentflats apartments are marketed with the promise of "permanent contracts" just like the apartments in Häggvik and Vällingby that were rented out through Rent Xpress. As mentioned earlier, the tenants there were evicted with a few weeks notice.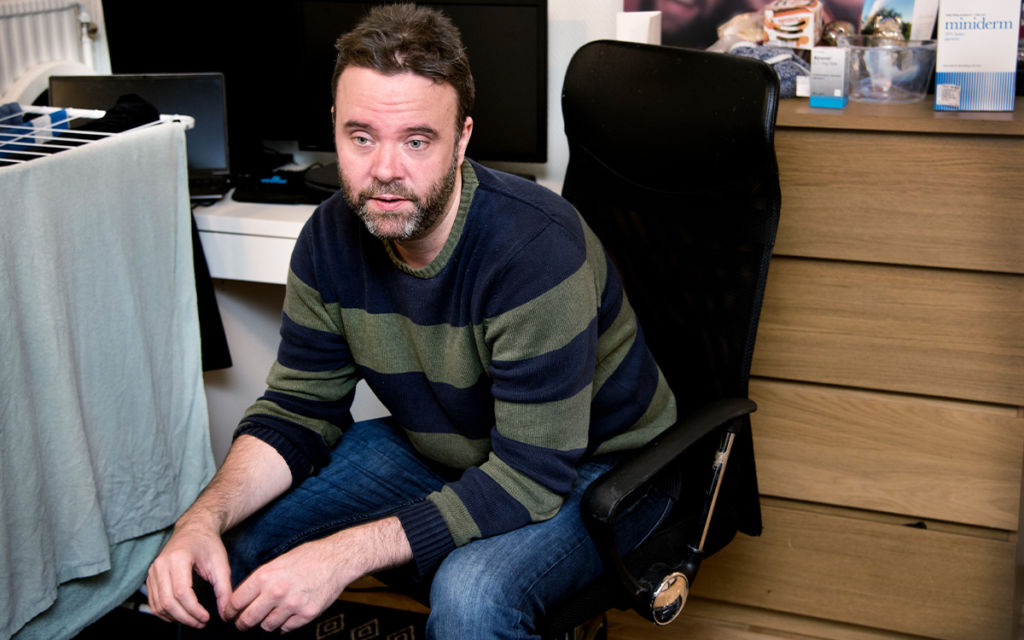 Robin Brådhe is tired and frustrated of that Rent Xpress owner can start a new company without first doing the right thing.
-I get tired and frustrated that the same owner can start a new company without first doing the right thing. It's really bad.